Birthday Girl
Yup, today was the day, 29 years old. Ack. That means next year.... well, I don't even want to think about it lol.

So, birthdays. Well, birthdays mean presents, and birthdays for knitterly types mean knitterly type presents. So this post will be pic heavy. You have been warned!
So the main present from Stu and the boys. You have seen him before in his box, he's been here a week and I haven't been allowed to open him, until today *grin*
Meet Arthur....
Now Arthur is an obvious choice for a name, given that the wheel is a Hitchhiker... Fellow geeks will understand. I love him. He's neat and compact which is essential. I think he needs decorating, but theres no hurry for that. I shall be trying him out imminently.

Other knitty presents included..
Charmed Knits from my inlaws, and Fun and Funky Knitting from my SIL and family.
Vogue Knitting Stitchionaries from my in laws.
A pile of Noro Kureyon for Lizard Ridge Squares from my boys.
Knitting Lingerie Style (I heart this book with every fibre of my being) from my lovely friend Andrea, and One Skein from my in laws again.
Spin to Knit from my in laws (I know, again lol) and Knitting Lace Triangles from the boys.
Very lovely Namaste messenger bag, blue cord with funky lining. I love. In laws again. I love them you know? They also bought me the very lovely shoes (mentioned in a previous blog) and this little beauty that is going to keep the girls and I entertained for many a knitty afternoon through the winter...
Every. Single. Episode. Of Dawsons Creek. Ever. *all bow down in wonderment*
Lovely Nic made me a needle roll to match my sock bag...
In other news this week, I recieved a lovely parcel in the Angel Yarns Forums bag swap...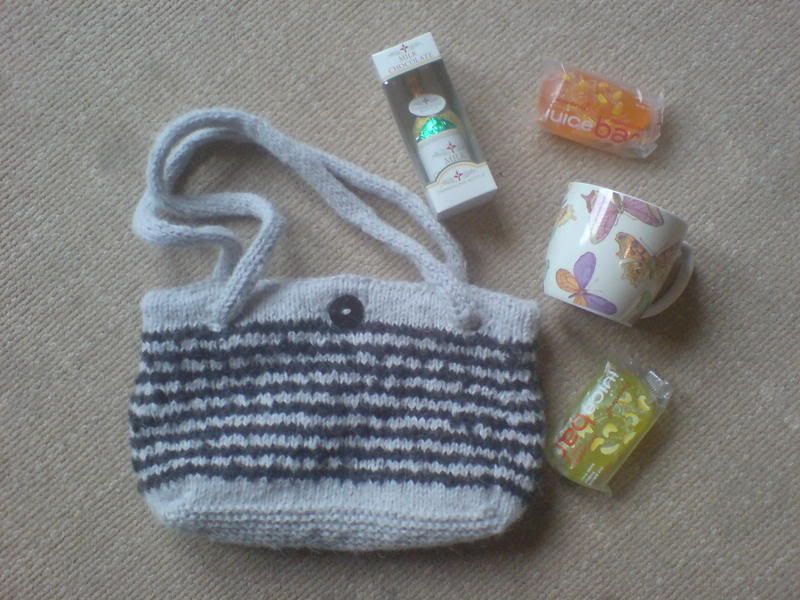 And my baby started school *sob*
I have been mostly knitting the shoes to go with the sheep dress, and these addictive little squares that will eventually be the very beautiful Lizard Ridge blanket from Knitty.

That is all, peace out!!!